Are you afraid that your children might start messing around when you go out shopping? Do you have nosy neighbors who love to sneak around and you're unsure of just what they can do? Are you fed up with your spouse staying late in the office and doing who knows what? If yes, then we have wonderful spy equipment designed exclusively for you.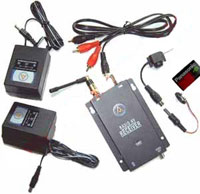 The spy camera is one such device prepared by the experts, keeping in mind the extreme conditions it can be subjected to. Size is a major factor here. The smaller, the easier it is to conceal it from the curious eyes of the people being spied upon. It is easy to install and the way to operate spy equipment can be understood even by people who never used spy cameras before.
Spy Camera Equipment Features
The spy camera comes in many shapes and sizes. Prices vary according to the features offered.  There are spy cameras as small as bullets and there are some that can be camouflaged to look like insects. Yes, technology really progresses with every year.
Spy cams can also be used wirelessly, which provides lots of new possibilities for spying. Some of the best spy equipment comes with numerous features and specifications. Spy cam that has more resolving power provides more accurate vision and clarity compared to one that has lesser resolution for instance. Such things usually decide the price of the spy gear.
Our featured cameras have been tested upon by professionals and have produced remarkable results. The waterproof cameras for instance can be used in the rain for a prolonged period of time without any damage to the circuit and can sustain appreciable under water pressures in order to capture the flora and fauna found under water.
Some spy cameras are costly and come with a full installation package: sensors and display monitors so that you can see what is going on in front of the camera in real time. Advanced spy equipment also comes with infra-red night vision for capturing video in dark. So, keeping a track of what is going on in the dark would not be a problem anymore. An additional feature which many spy cameras include is a voice recorder or microphone, enabling you to listen to what others are up to.
The Best Spy Equipment?
So what is the best spy equipment for personal, professional and business use? Well, this question can be answered by you mostly. There is no one best device. It depends on your needs and your wallet size.
Here at Vedosoft, we review all kinds of spy gear. From less expensive to all-in-one (obviously costlier) packages. If you are looking for a quality spy camera, then read more about it in our spy camera guide. You can also take a look at the home security systems, which come with multiple cameras and a DVR. For PI's we have more advanced counter surveillance equipment guide.