Counter surveillance is almost impossible to go without if you feel your life has been compromised. Government or military jobs. Ex-employees are almost always tracked.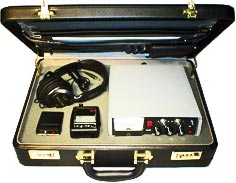 If you have some issues with your spouse, like divorce matter. You never know if she's bugged your cell phone or regular phone to listen to your conversations. And information they get from you could mean your life going down the drain.
So what the heck do you do?
Simple, get #1 in the industry P.I. counter surveillance equipment at 40% off if discount is still available. This kit detects almost anything. From body worn cameras or pen cams to listening devices and other kinds of bugs. This is professional P.I. device, so it's definitely not for kids. And the price is solid. But you get 10x what you pay for. When you need it, you need it. And it's best of its kind. Period.
What Surveillance Equipment it Can Detect?
Micro telephone transmitters (you'll be able to spot the bug instantly)
Spy cameras (you never know if your spouse has a covert camera somewhere in bedroom)
Phone recorders (no more of this BS, no one will listen and record your phone calls)
Bumper Beepers (if anyone has attached a micro tracker to your car, you'll know)
Body worn cameras (visiting someone, but aren't sure if they're secretly filming you? Track those bastards down easily. You'll know if they have a pen camera or hidden cam in glasses)
GPS tracking devices (is your employer tracking you? You'll know for sure with this kit)
Listening devices & eavesdropping transmitters
With this professional P.I. counter surveillance kit you'll be able to protect yourself and your family from unwanted and secret surveillance.
What's Included in the Kit?
Transmitter and Spy Camera Detector
This little buddy of yours will silently alert you when it finds any kinds of bugs or transmitters. It will start vibrating and blinking a light when it finds something. You can keep it in your pocket and you'll feel if the room if full of bugs or you're safe.
Frequency Counter Device
The 10-digit transmitter instantly catches, locks and displays the surveillance device location and frequency. It will detect any transmitters and based on their location eliminate the temporary signals, which confuse a lot of detectors.
Sensitive Combo Detector
This device will ensure the best possible protection available today. It works within 25 ft. distance and will detect any listening devices immediately eliminating any transmission. This beauty is top notch and is being sold to US government, police, large security companies.
If you are looking for complete 100% privacy, then this counter surveillance equipment is the best on the market right now. Top guys are using it. This doesn't get any better than this. If you are concerned of someone spying you day and night, can't fall asleep thinking that your room is secretly being watches, phone conversations recorded, then get this kit. It's worth every penny.
Click Here to Lock this State of the Art Counter-Surveillance Device »