Mini Camera with Wireless Option is Probably the Best Choice for Home, Office or Personal Security that You Can Find on The Market Today.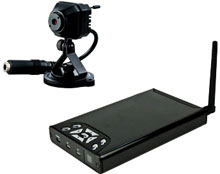 When we first hear the words micro camera we think about spies and 007 with all those high tech gadgets in their disposal. However, nowadays small mini cameras are also widely used in home or office surveillance. Sure you can always get larger security, CCTV cameras for better video, wider view angle and of course prevention of crime. Thieves seeing surveillance camera system installed outside will less likely to break in the facility. But professional grade cameras we're talking about have several disadvantages.
First of all, they cost more money. High quality video comes at a price and you need more than one camera to create an effective security system monitoring your home or business office. Second, they are large and attract attention. It can be a good prevention as we mentioned before, but not everyone needs it. Some people prefer small wireless micro cameras instead to perform 24/7 surveillance.
Micro Camera – Wireless Features
Tiny spy cameras are very good if you want to monitor your room, house, office, warehouse secretly. Why would you want that? Maybe to spot misbehavior, theft, catch a crime on camera. If you think micro cameras are less functional than larger ones, you should think again. Take a look at some of the features mini wireless camera system can provide:
Low Light Recording – Just because it's small, doesn't mean it can't record in the dark. Some of the mini cameras have ability to record under very low light circumstances, which is perfect for night vision surveillance.
Motion-Detection – Who said micro cams cannot turn on after movement is detected? This is one of the best features you can get, because it saves HDD/SD card space and lets you record only when something is caught on camera.
Sound Recording – Sometimes you need more than just video. Some of these micro spy cameras can record decent quality sound in situations when it's crucial.
Distant Recording – That's the #1 benefit of wireless micro camera. You can place the receiver hundreds of feet away from the camera and still be able to record what happens far away. Sure you need to power up the cam once in a while, but for secret surveillance micro cameras + wireless ability is simply priceless.
Multi Channel Camera System – And again, just because we're talking micro here, doesn't mean you can't create a whole system for security purposes. Most DVR's come in 4 channel support, which means you can connect 4 cameras. But you can get 8, 12, 16 camera systems even.
It may be hard to believe, but you get all of these high-tech features with some of the smallest micro cameras in the world. And they don't cost an arm and a leg. Production costs are lower in some cases and quality is there, so you save money by getting a quality smaller micro wireless camera for yourself.
What Mini Cameras Do You Want?
Models vary in price and design. What you can get depends on your wallet size and desire really. But with large array of options you may get confused. Let me suggest you some of the most popular and useful models there are on the market today.