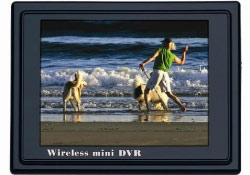 An interesting DVR receiver model. For a few hundred dollars you can get a DVR that will record up to 4 channels. It has 3.5 inch TFT LCD monitor that allows you to switch 4 channels and watch live video feed.
Flash card supports from 2Gb to 8Gb storage. External SD card can store up to 16Gb worth of video, audio and images.
This nice LCD monitor DVR receiver lets you read ebooks in TXT format only (shame, would be a competitor to Kindle), play music and video (has built in speakers), as well as browse through still image shots. AC adapter is included to power up the device. If you want a great DVR receiver for your custom wireless surveillance system that you just built inside your home, this DVR receiver would be a great choice. Capture great quality video and view them instantly if you want. It's one of the best choices for a lower end DVR receiver. It includes:
1 W-DVR-CCTV
1 User Manual
1 Stereo Earphone
1 AV Cable
1 AC Adapter
1 USB Cable
Enough talking. Are you ready to power up your multiple wireless camera security system? Then give this DVR receiver a shot. Inspect its specs and get it if it fits your needs.