Spy Camera Hidden in Glasses Records High-Resolution Video
Ever wanted to capture important moments of life, but couldn't because of technical challenges? Well, now you can. With camera glasses such as these you can record extreme chopper driving videos, hiking, skydiving and whatever else comes to your mind. It's super easy to connect these glasses to your laptop or PC. Upload your videos and share them with friends & family on Youtube, Facebook. Twitter or any other social platform you like.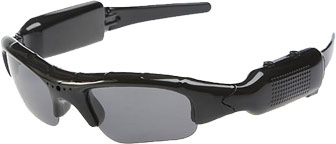 These glasses can also be used for covert surveillance. While they don't look very regular, depending on the situation and location, they won't attract suspicious eyes. New technology allows for extremely microscopic camera lenses to be installed inside the sunglasses. Not only that, but you also get sensitive mics. to record sound along with video.
Covert Spy Cam Sunglasses with DVR & Micro Switch Controls

Our Best-Selling Camera Glasses
Now you can record everything you see with these camcorder glasses. Not only you can spy on people & record vital information, you can capture extreme sports video & upload them to YouTube.
4 GB Internal Memory
Supports 8GB Micro SD card
Easily Rechargeable Battery
640 x 480 High Resolution
Save on These High Quality
Hidden Camera Glasses
"This is an excellent product and works very well. A lot of the times, I strongly feel the need of a product which can record what I am seeing. It is mostly during outdoor activities where carrying a camcorder all the time is not practically feasible."

Kanishk

"These Video Recording Sunglasses are a blast! Right out of the box they are super easy to use. I pulled them out, pushed a button, and a green light came on – looked good to me."

Kristi in Rochester
As you can see, the secret spy camera is installed right in the middle. Sensitive microphones can record sound so with this high-tech device you don't need to carry a large camcorder. It's simple and very convenient. Think about all the possibilities: snowboarding jumps, surfboarding action, off-road bike driving.
What's even more interesting is you can put these glasses anywhere in the room and it will record the video and audio for you. Just upload the data to your computer and you have undeniable proof.
High-Res Outdoor Entertainment Recording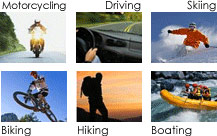 Nothing can be more fun than recording your own stunts and then showing them to your friends on Facebook or YouTube. With these 
hidden camera glasses
 you can record anything you want. From Motorcycle stunt-driving tricks to nice and warm hiking experiences.
Very light, very efficient and very quality DVR cam glasses are the perfect high-tech equipment for today's consumer. The video is playable with almost every software available today. With the built-in microphone you can have a blast with this gadget.
Choose Your Spy Glasses with Hidden Camera
There are quite a few camera glasses in the industry today. On our site you can find the most reputable spy glasses for your needs. Our prices are one of the lowest in the industry. If you need to compare, just Google.