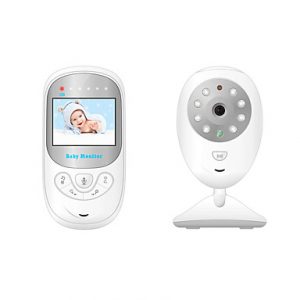 If you have a newborn you know that you gotta be close all the time to make sure nothing wrong happens. But sometimes you just need to relax from babysitting your child all day long. That's where baby monitors come into help. Now you don't need to keep an eye on your baby all the time. You can do what you want and whenever your baby start crying you can hear that and get alerts instantly. With baby monitors you can also watch your little one while being in another room. How great is that huh?
Here's a new baby monitor with wireless pan/tilt camera view. You can set up a camera in your baby's room and leave it even at night. It has infrared illuminators so you can see perfectly in the dark and you baby won't be distracted. With the rotation option you can control the camera and see what's going on in the room. 187° horizontal rotation and a 60° vertical rotation available in this device.
You Can Do What You Want
Think about it, now you are hands-free and don't need to stay with your precious one all the time. You can go to cook, work in a yard, be in a shower and keep an eye on your baby all the time. This is really a savvy parents' dream.
What's even better is you can connect the LCD screen to your TV and watch your baby on wide screen.
Baby monitors are almost crucial for babies with special needs. You can't leave them alone. But having your eyes on them all the time gives you the piece of mind and time to to your daily stuff. If you're interested, go ahead and get it while it's still available.
Features:
10 infrared illumination lights let you see your baby- even in complete darkness
187° Pan/60° Tilt let you watch your baby from multiple angles to ensure safety
Use this baby monitor in multiple rooms- wireless design means easy set-up and a 330 ft. range
2.5 inch handheld LCD-TFT screen is perfect for busy parents on-the-go
The AV cable lets you easily plug the handheld monitor into you TV or computer
Built-in microphone for crystal-clear sound
(Update: This product has been discontinued. Browse this site for more hidden cameras.)