Innovation at Its Finest
Featuring the newest product in the line of home objects with hidden cameras, here is the Wireless Air Wick Air Freshener Camera. This camera looks like a standard air freshener, and features both color and black and white video.
No one will ever notice that your air freshener is a fully operational covert camera that holds an eight hour battery charge. "No wires" included allowing you to move the air freshener around the house with ease to set up the hidden camera as needed.
Nanny Cam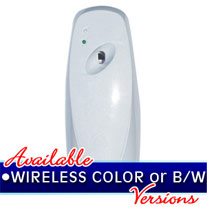 The air freshener camera makes a truly unique and undetectable nanny camera. You won't have any problems keeping an eye on the housekeeper, nanny, or contractor moving about your house. Aim the camera at your jewelry box or aim it at the playpen. Either way, you are protecting something valuable to you.
Since the camera is completely wireless, and also comes with a 2.4GHz free receiver; you will never have to adjust the receiver to keep the wireless camera signal catching all the action. The Air Wick Cam is one of the best options to add to a nanny cam security collection.
(Update: This product has been discontinued. Browse this site for more hidden cameras.)