Wireless USB camera is very handy device for tracking down what's going on in room or office. It's very easy to set up, it has motion detection abilities and with USB receiver you can record all the data to your hardware for later viewing.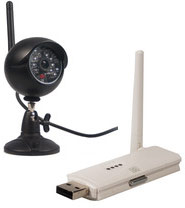 Even better, you can access this wireless USB camera from any locations worldwide. Seriously, you don't want to miss this one.
How it works? You simply type your IP address, connect to your computer from any place in the world using internet connection. And you can monitor what's happening in the room real-time. This is very convenient in case you'd like to see the action live.
Such spy web cams have grown in popularity over the years. Computer enthusiasts all over the world are fascinated by the idea of having automatic surveillance tool at their disposal. Frankly anyone with this USB spy camera can record video secretly without anyone knowing.
Protect Yourself from Thieves

Wireless USB camera can easily be used by people with no technical experience. It is very easy to set up.
Let's say you're a small company owner. You suspect one of your employees is stealing merchandise when no one sees. Simple solution – put this web camera near the computer so no one would suspect. As soon as the thief starts to act, camera will turn on automatically and record every single move. Then you can go to the police and show the undeniable evidence.
Using this spy web-cam you can record anyone and pretty much anywhere. Even at your home. If you think your nanny is not taking care of your baby very well. Or maybe she's doing something else "more important" that watching over your little one, you can use this wireless USB spy camera to record or live monitor her. Such camera near the PC won't attract any attention.
Lastly, you can use it for outdoor surveillance. Attach this USB camera near the window and let your computer spy & record critical video data straight into the hard drive. Use it to make sure your neighbors aren't stealing your stuff. Or how about using it as a prevention device?
Specifications:
Camera:
Frequency: 2.4GHz
Antenna: Dipole antenna
Transmission Distance: 500feet (line of sight)
Image Sensor: Color CMOS
Lens: f3.6mm, F1.8
IR LED: 20pcs
Power: DC 9V 500mA
Size: 6.5 x 11 x 8cm
Weight: 10.5oz
Receiver:
Frequency: 2.4GHz
Antenna: Dipole antenna
Power: Powered by USB port
Size: 3.1 x 1 x 8.4cm
Weight: 0.56oz
Interested in one of these spy web cams? And you should be. With low economy, we have more crime. That's why it's more important than ever to protect your assets as well as your loved ones.
(Update: This product has been discontinued. Browse this site for more hidden cameras.)