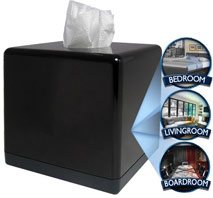 You already know that covert hidden cameras come in all shapes and sizes. Literally. This is one step closer to a perfect covert spy camera. Why? Black tissue box is one of those regular everyday items that simply blend in to almost any environment. Be it small office or cosy home. Because of that, this hidden camera is one of the best choices you can make if you want a silent spy in your house working for you.
This black tissue box camera records at night too so you get a night vision camera as well. Moreover, it's one of those units that are perfect for no techies. If you're confused by all the wires and instructions, installation and all that stuff, don't worry. This is all in one self recording DVR. It means no wires and no additional devices like transmitters and receivers to setup.
How Does it Work?
Very simple. First of all determine where you're going to put it. Kitchen table, living room desk, on a windowsill? You might need to move furniture a bit to find the right angle for recording to capture all the view. Next, choose what mode you're going to record. Continuous, scheduled or motion activated. The latter is suggested as you won't have to use so much SD card space for recording. Also adjust the framerate at which you're planning to record. The lower frame rate is, the more data you can capture.
Simply turn on the hidden tissue box camera and let it do its job. At any point you can plug the TV or monitor cable and view the recorded video straight from the hidden camera device. For more convenience, take out SD card and transfer the data to your computer. Clean up the card and plug back into the tissue box for another batch of surveillance data.
Final Thoughts
We've covered quite a few covert surveillance cameras in this blog. This tissue box hidden camera is obviously one of the more expensive spy camera DRV's out there. But it's well worth the price. You can take it anywhere with you. It's completely portable device. And really easy to use.
The masking is perfect and won't attract unnecessary attention. Out of all the hidden covert spy cameras, this unit is definitely worth your attention. I suggest you go and read more about this spy camera right now:
(Update: This product has been discontinued. Browse this site for more spy cameras.)