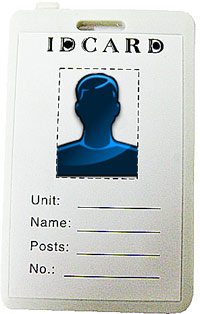 You've heard about body worn spy equipment. But let's take it one step further and narrow it down to wearable spy equipment for people in working positions. Office workers, event organizers, people in charge of security or basically anyone who'd need an ID Card.
ID Card Spy Camera. Presented as the worlds thinnest spy camera. Not hard to understand why. It's covered as ID card, which is in nature very thin, like a credit card almost. And inside it, there's a microscopic spy camera recording video and audio for you. How cool is that?
Take a look at what you get with this model:
Record 2.5 Hours of Audio & Video
Almost as Thin as a Credit Card
Take Hundreds of Snapshots at 1280 x 1014 Resolution
2 Hour Rechargeable Battery on Continuous Recording, 10 Hours on Standby
Built-In 4Gb of Memory
What if one of your office co-workers is stealing from the office and there's no evidence to stop him? What better option do you have, other than using a mini ID card spy camera that was specifically designed for the office workers/managers to wear and use?
The spy geeks would probably break this unit apart just to get the thin spy camera that you can stuff anywhere else you want. But hey, let's leave it to the real enthusiasts alright…
So if you are curious about this world's thinnest micro camera, go ahead and click this link below. You'll be instantly taken to the order page where you can get one of these for a low cost:
(Update: This product has been discontinued. Browse this site for body worn cameras.)