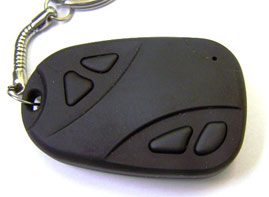 Did you hear about this new spy device on the market? – Mini digital key-chain camera. It looks just like a car remote but has built in camera inside. Moreover, it has built in DVR. Yep, it's completely portable and ready to use as one of the best body worn spy cameras.
Many mini spy cams on the market are not capable of storing a lot of data inside. This car keychain camera can hold up to 16Gb of video surveillance information. The resolution at which it records is also impressive given the size of this camera. Just look at the specs below:
Car key camera and hidden camera
Video format: AVI 720 x 480
Picture resolution: 1280 x 1024
Memory support: up to 16GB SD Cards
If you want a mini spy cam you can carry with you anywhere you go, then this device is absolutely perfect for you. Take it anywhere you want and spy with a click of a button.
You don't need to arm yourself with crazy wires, DVR's and specific clothing just to mask the camera you're hiding somewhere. A simple spy keychain camera will not bother anyone and you can carry it in your hand like nobody's business. Start recording whenever you see anything worthwhile the shot.
(Update: This product has been discontinued. Browse this site for more mini spy cameras.)