Really Easy & Fast to Install PC Monitoring Software Straight from USB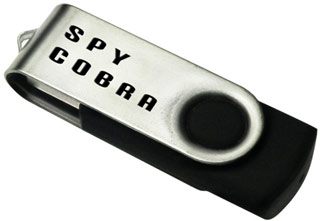 It's called the next generation computer spying device, because it doesn't require you to install any hardware. Unlike other software programs, Spy Cobra is installed within 15 seconds and will log all the data in the background. Without anyone knowing! It means that you could install this device while the laptop owner goes into the bathroom.
Retrieving data is as simple as 1,2. You just plug in your USB stick into the PC and download all the logged data right into your flash drive. It's very convenient and very fast.
Who Should Use Spy Cobra?
When it comes to PC monitoring, Spy Cobra can be used by almost anyone really. However 2 groups immediately come to mind that could benefit immensely from this nice little device:
Suspicious Employers If you suspect your employees are taking time off the computer while working, then it's a no brainer to try and monitor their activity. Not only because they might be browsing porn have sites instead of making contacts with potential clients. In some cases, they might be transferring crucial and secret company data to someone else. Or how about those backstabbers? They work as sales managers in your company for 5-8 years and then decide to open their own company as soon as they think they know everything about the topic. They simply take away all your clients and you're done. With Spy Cobra you could see their emails and what they're planning behind your back.
Caring Parents Second group is parents who want to protect their children. It's probably even more important to monitor your kids, especially these days. Internet offers too many opportunities for all kinds of people. While it's not so vital to monitor your 16 year old teen to find out whether he browses porn sites, it's much more important to keep an eye on your little ones. Especially in chat rooms that are full of pedophiles and other creeps waiting for their victims. With Spy Cobra PC monitoring soft you'll see logged data and be able to analyze what your kids are doing and who they're hanging out with.
Specifications:
Compatible with Windows XP, Vista, Vista SP1. Windows 7 Compatible
1 GB memory – enough to transfer about 8-10,000 screen shots and a virtually unlimited text log – more than ten years' worth of typing.
Monitors real-time activity.
Locally stored data is strongly encrypted with a unique key for each device.
Data is stored locally so the Spy Cobra is used only to move temporary data before moving it to another PC to view.
Powered by the USB connection
Size: 5.5cm x 2cm x 0.75cm
If you are interested in PC monitoring and surveillance software and tools, then you need to check out Spy Cobra a little closer. Grab this PC monitoring software/device for a low one time fee? Then don't wait and visit SpyAssociates site for more information.
(Update: This product has been discontinued. Browse this site for more spy and surveillance software/apps.)