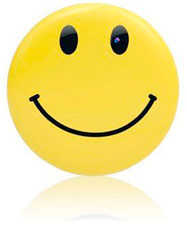 Put on a happy face with the Smiley Face DVR. This unique hidden camera is disguised as a smiley graphic that you pin to your shirt or jacket. A tiny micro camera records everything you walk by, while a mini-DVR records up to two hours of video on a single charge.
Included in the package:
Smiley Pin Camera w/ Internal DVR
AV Cable (video output)*
Connects to RCA inputs
User Manual
Installation CD
Suction Cup & Mounting Hardware
Lithium-ion Battery (Internal)
USB Charger/Data cord
Family Outings
The Smiley Face DVR is perfect for recording a family trip that you want to remember without having to drag around a larger video camera. This camera is great for recording those weekend picnics you have at the park or those fun times on a roller coaster. You will be able to look back and never miss a minute of family time with the Smiley Face camera.
Vacation
Still wondering what it can do for your family? Imagine a vacation that is recorded to DVR and then saved permanently on your computer. Just keep the DVR charged and you can re-live your vacation for the rest of your life. Relish in your memories and never forget the good times with family.
(Update: This product has been discontinued. Browse this site for DVR systems.)