DVR recording kit with H.264 compression. This is the best quality surveillance system you can get on the market. Click below to check it out.
16 Channel DVR Security Camera System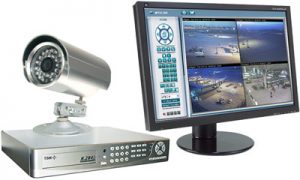 Obviously this babe is not for amateurs. It's for professional business monitoring and surveillance. You get the absolute premium with this kit. Just take a look at some of its features and you'll understand why so many people choose this system from us:
Full D1 H.264 Compression Technology – To novices, this technology allows for the longest recording times (less hard disk space used) and perfect quality image. With H264 video compression you'll get synchronized sound even if you use all surveillance cameras at the same time.
16 SONY Nigh Vision Cameras – While some use the old and cheaper daylight only cameras, professionals know that night vision is crucial. Statistically the most crimes are being done at night. Seeing and hearing what's going on at this time of day is a must. And you can see perfect night vision view with these Sony cameras.
Here is a longer list of features this system provides:
1/3″ Sony 20 LED Infrared Camera with 480 TV Lines.
Easy mounting in-door LED Cameras work in extreme low light levels.
H264 compression ideal for saving HDD space
Real-time live display
16 channel DVR: 60, 120, 240 FPS
Control methods: front panel, PS/2 mouse, IR remote controller, client viewer
Supports 2 SATA HDDs
Pan / Tilt / Zoom camera control
Data backup: USB devices, DVD-RW(optional), network download
Event triggered with E-mail notification: motion detection, alarm, video loss
Internet Explorer supported for live display and playback
Digital watermark proof
Multi-language OSD: English / Polish / Spanish / Russian / Traditional Chinese / French / Turkish / German / Italian / Portuguese
PS/2 mouse
IR Remote Controller
This is the only security your business needs. It's reliable and with watermark recording, any recording can be brought to court as evidence. Take your time to learn more about this system. You'll see it's worth it in the long run.
(Update: This product has been discontinued. Browse this site for more security camera systems.)