Ease of Mind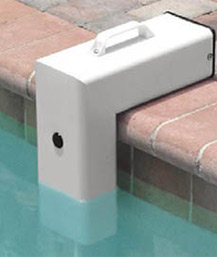 Protecting your children, who have not developed strong swimming skills from the dangers of a swimming pool, should be a top priority for your family's well-being. The Pool Alarm can help prevent worry and ease your mind.
How It Works
The Pool Alarm is easily installed on the side of the pool and can never be deactivated. The alarm electronically monitors the water and can detect when anyone enters the pool via highly sensitive detectors. If anyone falls into the pool, such as a child, the alarm will immediately send a pulsating and extremely loud alarm.
Features
Since you cannot deactivate the pool alarm for safety reasons, whenever you are ready to use the pool, you must use a remote control, enter a code, and put the alarm in sleep mode. If your child or anyone tries to remove the pool alarm, it will also set off the alarm.
Only the person with the master control and password can deactivate the alarm ensuring 24/7 safety. The alarm runs on a simple 9 volt battery that lasts a year.
In the state of California, the number one accidental death of children aged 1-4 is drowning. There is no better way to pronounce the importance of the pool alarm for your family.
(Update: This product has been discontinued. Browse this site for home security systems.)