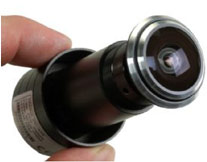 Often shady characters are lurking outside your door. Why? Who knows. Maybe they're trying to rob your house or apartment, maybe they've been stalking you for a while, or maybe they're some crazies trying to scare you.
What happens when you notice someone outside the door? You go to check. But if they're watching your peephole, they'll notice you're coming, because they can see the shadow covering the whole. This is uneasy for anyone, especially kids. There is a nice solution to that. Peephole door spy camera. Replace your regular peephole with this tiny covert cam, connect to any DVR and record what's going on without trouble. Not only will they not see whether you're coming closer to the door or not (they actually won't see anything), but it will record clear view outside your door. This is very useful if you're actually being stalked by a stranger and have no evidence to show. Take them on the camera when they come close to your door and record their faces. From there, authorities should help you with the situation.
What does this peephole door camera have?
1/4 Sharp CCD Camera
Wide Angle Lens
Color Video
You can use this hidden spy camera not only for protection, but surveillance purposes as well. Watch what cars are stopping next to your house. Someone's painting your door? Get them on camera without saying "smile".
If you live in high crime rate neighborhood, I suggest getting one of these cams for yourself. Many times your words aren't enough and police can't do anything. That's why you have to take to the next step and bring the evidence that's undeniable. Video. Ask yourself if your personal protection or security of your family is worth more than a little device with one time payment?