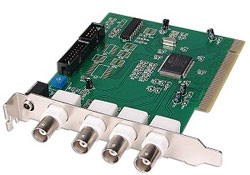 This is one nice product you can get online. It's a PCI-E DVR card that you can install inside your PC and it will record the footage from your spy cameras.
It's one of those products for more tech savvy audience. Yes, we all love hands-free devices where you push a button and it all works. All in one DVR's that is. But more advanced spy equipment lovers have more sophisticated needs. And when regular, factory built tools are not enough and you want something special to fit your custom needs, you get one of these DVR cards.
Supports 4 lines, motion detection, auto-email still shots, ability to see 25 channels on a monitor, multiple cards in one PC, continuous, motion-detection or scheduled recording regimes, multiple authorizations.
Technical Specs
Records in AVI format
h.264/MPEG-4 compression
Display rate: 100fps
PC Port: PCI-Express 1x
Network protocol: TCP/UDP
Supports both PAL and NTSC
Simultaneous remote and local viewing
Built in DDNS and HTTP Servers
With this DVR card you get the flexibility you can't get otherwise. Place it in your computer and set up separate CCTV, spy cameras. If you are a DIY person, then it's not worth investing hundreds into expensive pre-built surveillance packages. This DVR card will enable you to have your own custom built security system.