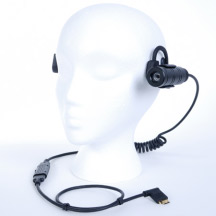 For covert security operations, the 1.3 Megapixel WDR Mobile Camera delivers a stunning and clear image at all times.
The camera can be mounted over your ear so you can discreetly record whatever it is you need for your current operation. A swivel mount and clip bracket are also included, which can help diversify your surveillance jobs. The mount is perfect for recording while driving or on an investigatory stakeout.
A simple cable connects the WDR Camera to a mini DVR for later HD quality playback on your computer or TV. Best of all, a single cord is used so there is no fumbling around with multiple wires.
The 2.6" long camera is not very noticeable, making it perfect for private eyes, law enforcement, and surveillance operations. For the outdoor enthusiast, it makes a great camera to record nature walks, boating adventures, and even bird watching.
Specs:
Imaging Specifications Lux – 0.05
Megapixel  – 1.3
Lens Specifications FOV (degrees) – 78
Physical Characteristics Diameter (in) – 1
Length – 2.6
(Update: This product has been discontinued. Browse this site for more mini spy cameras.)