Mini spy camera inside a toy car – pretty interesting isn't it? What's great about it is that it records high quality video and is motion audio ready. You can translate footage into an internet feed for surveillance.
How You Can Use It?
Simply put this toy car on your office desk and wait for the action to happen. Barely anyone will suspect you of secret recording. It's completely hidden spy camera so no traces left.
Or how about asking your boy to play with this toy car and make sure that it films daddy talking to a shady character. You'll have sound and high quality picture to show as evidence.
Mini DVR Clock Camera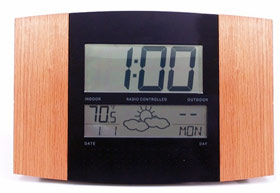 It looks like a little toy. But it's a hidden spy camera inside. You can place this tiny clock on a desk or on a book shelf. Hardly noticeable. It records up to 2 hours of video on its own. Very nice considering its size – take a look.
Easy plug and play lets you connect this tiny spy clock cam to your computer and play .avi file with any video player. Very convenient.
It's perfect for recording conversations with people you suspect or those who threaten you. If that's the only way to bring the bastards to the light, be it. This tiny spy gadgets includes:
Color Mini Clock
USB Cable
AC Adapter
Instructions
These are just a few toy items I've found and decided to share with you. Maybe this is a great gadget for you at the moment, or maybe you'd love to buy one of these for your kid's birthday? Either way, I'm sure you can find a use for these tiny little spy gadgets.