What is mega mini spy camera pro? Well, it's one of those cool little handheld mini spy cameras that you carry with you and turn on with a touch of a button. Actually, it can be automatically activated by voice, so no touching necessary.
This micro camera has gained a lot of popularity among the law enforcement and especially regular consumers.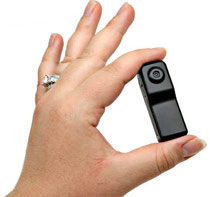 Why? It's tiny, it records relatively high resolution video, it's easily turned on and off, it has longer recording time than other devices due to bigger storage capacity, it's WIRELESS, can be attached almost anywhere, and has many uses.
Who Benefits from Mega Mini Spy Cam?
These wireless micro cameras can be used for professional, casual or sporting activities – very versatile. Here are just a few areas where these micro cams can be used today.
Private Investigators – It's one of the easiest to use and best price models for PI's and law enforcers in general. It's reliable, takes good quality video, small to fit anywhere.
Journalists – What to do when you don't have a camera crew around? Or when you need to take secret video of the interviewee? You use mega mini spy camera.
Hired Shoppers – Companies do this all the time. They hire covert shoppers to record and evaluate the sales people communication skills. This device is ideal for that.
Business Meetings – You can take this mini cam with you and record conversations, video of business meeting held. In order to take notes or whatever other reasons.
Construction Workers – Mount this camera on your helmet to record a specific problem on the site in hard to get to place and bring the video to the managers to look at.
Sport Stunts – Attach this mega mini camera to your bike and record what amazing tricks you can do with your bike for example. Or on a helmet to film snowboarding jumps.
Characteristics of This Spy Camera
This camera has super easy one touch video, audio recording as well as sound detection based activation. 8Gb micro SD card allows up to 3.2 hours of recording. High res. 640 x 480 @ 30 fps recording. Li-ion battery lasts about 2 hours when charged.
Thumb size alloy housing
Manual and sound-activated recording
Web cam capability for online video chat
Supports AVI video format
Low light illumination with high resolution 2000K pixels
High speed recording and quick light response
Color CMOS 1 Lux
30 FPS and 640 x 480 Resolution
Built-in Li-on rechargeable battery last up to 2 hours
Supports up to 8Gb Micro SD Card (Not Included) (up to 40 minutes per Gb of recording time, 3.2 Hours)
LED indicator
Easy installation with a bracket or clip
Bracket allows for 360 degree pan and 150 degree tilt
JPEG picture format
62 degree FOV
Can't wait to grab this piece of device and start recording? Then go ahead and click this link below that will take you straight to the review page.
(Update: This product has been discontinued. Browse this site for more mini spy cameras.)