Yet another household item transformed into professional spy equipment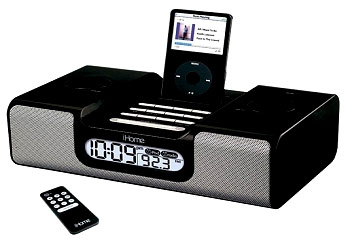 Almost everyone now has iPod or thinks of getting one. These are becoming one of the most common household items today. You won't surprise anyone with an iPod docking station that charges up your little player. But how about an extraordinary station? The one that not only powers up iPods, but secretly records everything that's happening in your room?
With this neat little device you get the option to choose how you want to record the videos. 320 x 240 video recording or higher resolution 640 x 480 still shots? You do this simple by connecting the device to your TV and changing setting with a remote control. Pretty cool huh?
With this device you don't need to mess with wires. It's self-contained digital video recorder. It's secure and easy to use so even children could set it up and start recording.
Does it Work Like Real One?
You bet. You can set this ipod docking station camera to go to sleep on specified time. In the morning, you set it to wake you up straight to FM/AM radio or Ipod's MP3 music. EQ controls treble, bass adjustments are there.
Fully working remote control to help you easily navigate through songs lying in bed. High quality sound speakers bring amazing sound from your ipod.
Note: This device is not compatible with 3rd gen. or earlier iPods, so keep this in mind.
Specifications:
JPEG (Still Shot Image) Resolution 640 X 480
640 x 480 Resolution @ 5,4,3,2, or 1 fps (User Selectable)
MPEG4 (30fps real time video) Resolution 320 X 240
Low Light Color CCD Camera .05 Lux 420 LOR
Adjustable Motion Activation
1X,2X, or 4X Playback Speed
Upgradeable firmware via SD card for future upgrades
Image size dependent on amount of motion (25kb ~ 160kb @ 30fps)
Time/Date Stamp (when played back from unit on TV/Monitor)
Uses windows media player on SD card playback (PC)
Supports up to 16Gb SD card
Approximate Video Record time 2.5 Hours per 1Gb
Prepared to lay a few bucks for this type of DVR covert spy camera? Click this link below to further read and investigate this device.
(Update: This product has been discontinued. Browse this site for more hidden cameras.)