Security and printers rarely have anything in common, except for the HP Printer w/ Hi-Res self-recording Spy camera. The awesome printer comes with a spy camera and DVR included to record video.
This printer has every function of the normal HP printer model, but with your surveillance camera included. The 2GB SD Card is included in the purchase, and everything is in one piece.
Features include: normal printer use, completely hidden camera and SD card slot, and easy video playback on Windows Media Player.
Specifications:
Model: – HP Printer/ Fully Functional / Original Condition
Camera Lens: – Sony 4.3mm Color CCD Pinhole Lens
Quality: – 420 TV Lines
Minimum Lux (light): – 0.5
Resolution: – 640 x 480 DVD/MPEG2 Quality
Frame rate: – 12FPS
Recording Mode: – Motion Detection
Storage Mode: – SD and HCSD Cards
Size Supported: – 1GB, 2GB, 4GB, 8GB, 16GB
Recording Length: – 10 seconds – 2 minutes per clip or per motion
Recording Cycle: – Auto-Recycle (deletes oldest clip)
Recording Capacity: – Recording with motion detect on, In most environments the DVR will record between 2-4 days per Giga-byte (GB). If the DVR is set to record continuously, The DVR will record 3.5 hours per GB.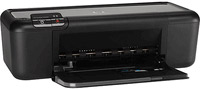 (Update: This product has been discontinued. Browse this site for more hidden cameras.)