Basic Info
If you are looking for a great deal on a digital video recorder (DVR), there are many choices out there. The H.264 Mini Digital Video Recorder is a small and highly portable DVR unit that is perfect for security or any other surveillance needed for your purposes.
The DVR can be motion-activated, manually controlled, or it be left recording. You can playback any recording easily by plugging the DVR directly into your TV or computer.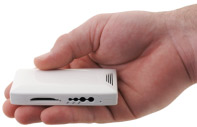 Features
The H.264 has a solid resolution of 704×480 operating at 30 frames per second. It also includes a wireless controller, a nice power supply, and is only 3.5" x 1.7" and a slim half inch.
Specifications:
·

Recording Specifications Compression   H.264
Low Frame Rate (fps)   10
Low Resolution   352 x 240
Max Frame Rate (fps)   30
Max Resolution   704 x 480
Med Frame Rate (fps)   15
Med Resolution   704 x 240
SD Card Reader   Yes
Storage Capacity (GB)   32
Audio   Yes
Depth (in)   1.8
Height (in)   .70
Width (in)   3.6
Amps DC (mA)   150
Volts DC   12