Keep your valuables inside a portable safe that's unlockable by your fingerprint.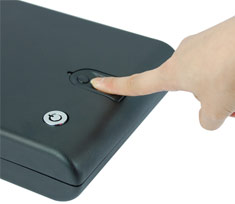 Here's another safe to keep your jewelry, bonds, dollars or anything else you have valuable. Previously we covered an interesting concept of safe inside a bolt. Small, strong, and you can carry it anywhere. Well, today let's take a look at a slightly more sophisticated safe option.
Fingerprint safe box. What can be safer than storing all your stuff inside a safe that's programmed to open only which you fingerprint. It's one of the best security measures today and lots of safes now have this option.
Information about Fingerprint Safe
This biometric safe is made of 16 gauge cold rolled steel and thick memory retentive foam interior to keep your values intact. What's great is that you also get a strong cable to connect the safe to some hardly moveable items around you. If you're in a hotel, try attaching the safe around furniture, some metal objects like radiators. This will give extra annoyance to those trying to steal the safe.
It supports up to 9 different fingerprint templates. What it means is that you can give access to the safe for 9 different people or simply use 9 of your fingers.
When power runs out and the safe cannot recognize fingerprints, it uses a key. Although batteries last for 12 months and can be replaced at any time, having another way to unlock the safe is always good.
Specifications:
Primary Function: Fingerprint Storage Safe Box
Primary Materials: 16 gauge black steel exterior with thick memory retentive foam interior
Mechanism: Fingerprint biometric lock, key lock override, omni-directional spring-loaded door.
Color: Black
Biometric Resolution: 500DPI
Verification and comparison time: ≤1s
False rejection rate (FRR): ≤0.01%
False acceptance rate (FAR): ≤0.0001%
Static current: ≤12uA
Dynamic current: 110MA~180MA
Battery Life: Approx. 12 months
Power Source: 4x AA batteries
No complicated 6 to 12 digit combination to memorize. It's simple as pressing your finger against the fingerprint scanner and having your safe open up. This is very strong and nicely built safe.
(Update: This product has been discontinued. Browse this site for more hidden cameras.)