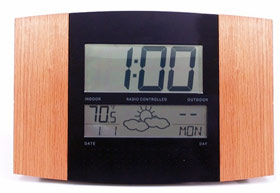 This more expensive clock camera model offers some of the best surveillance options around. First of all it is body heat activated. No wasting battery and memory space on recording things like moving tree branch near window for example. It will automatically turn on and record actual people walking in your room be it your family or burglars. No one will pass by this spying eye.
With one charge this clock camera can record up to 20 hours of video. It includes 4Gb SD card for storage. The battery of this clock lasts for one year as the advertisers claim. It records at high 640×480 resolution and gives you great looking footage.
This body heat clock camera is completely portable. You don't have to just put it in your house for security. You can bring it with you and place it in your office. Use it wherever you want. Going on a trip? Who knows, maybe you'll find it extremely useful.
It can accurately adjust the clock based on your time zone by capturing WWVB signal broadcasted by the U.S. Government's National Institute of Standards & Technology. Pretty impressive if you ask me.
"No Battery Drain" Standby System
1 Year Standby Battery Power
20 Hours Recording Per Charge
450 LOR HI Res Color Sony CCD
PIR Motion Activation
Time/Date Stamp
This model comes at a price, but it's well worth it. This clock camera model is suitable for anyone, rom serious to amateur 'spies'.
(Update: This product has been discontinued. Browse this site for more hidden cameras.)