Motion Detection DVR Disguised as Ball Cam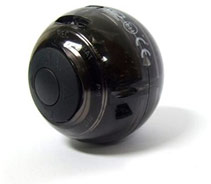 It's official – these black tiny balls will bust you. Given the size, which is smaller than regular golf ball, these micro ball cameras with included motion detection DVR can capture an amazing quality video and audio for you to view later.
Set a ball like this on a shelf or desk and keep it recording. Come back, take out the SD card, stick it into your computer and download all the video/audio data.
Yes, you can even carry this ball with you (possibly attract more ladies). Ear buds included to listen to MP3's inside. How cool is that? Rechargeable battery for quick and easy charge up. Easy playback via TV available. You also get sports band and necklace for carrying it with you. It's small in size so could easily fit in your pocket.
Specifications for ball cam:
Camera Type: CMOS (60 degrees, under 1 LUX)
Photo Resolution: 640 x 480 (Pixels)
Video Resolution: 320 x 240 (Pixels) Up to 30 FPS
Internal Memory: 128 MB Flash Memory
Optional Memory: Micro SD up to 16GB
Recording Methods: Continuous/ Power Save (Motion Detection)
Video Compression: MPEG 4 + Starnex's own Algorithm
Built-In Microphone
TV OUT: NTSC and PAL
Mass Storage Capacity Average Recording Time: (continuous recording) 48 hours
Motion Sensitive: (64-576 hours) these times are based off of a 16GB Micro SD Card
Battery Life: 2.5 Hours of Continuous Use, Motion Sensitive 4-48 hours
Size: 1.5″ (diameter)
Weight: 20g (0.04lbs)
Neat looking design and lots of functions make this ball camera one of the best choices on the market. It can act as body worn spy camera or covert camera you leave at home or office.
(Update: This product has been discontinued. Browse this site for more mini spy cameras.)