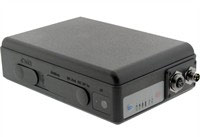 The DVR
Security DVRs are one of the hottest tickets on the market right now. A DVR is simply a digital video recorder. Some are wireless, others are not. The XtremeLife DVR Box is a heavy duty indoor and outdoor DVR that records up to 20 hours of video on a single charge.
Buy a Small Camera
In addition to the DVR, you will need to attach a camera. If you are planning on hiding the DVR, such as in a box, then you will want to invest in a hidden micro camera. This DVR is specially made to work with small cameras that remain hidden, not to be seen and feared.
Motion Detection
The XtremeLife DVR has passive infrared sensor detection that is based on changes in temperature. The DVR can sense someone nearby as humans have a body temperature of 98.6 degrees.
Video Quality
Resolutions available for the DVR range from a small 352×288 up to 1280×960 HDTV quality picture. Higher quality generally requires more memory, but an SD card with 16GB of storage will treat you well ensuring non-stop high-quality video.
Includes:
Xtreme Life High Definition DVR
Power/Charging Cable
A/V Out Cables
RCA In Adapter Cable
PIR Sensor
Remote Control
European Plug Converter
(Update: This product has been discontinued. Browse this site for DVR systems.)