Hidden Camera Detector with High-Res. LCD Screen Searches Frequency Up to 300 ft.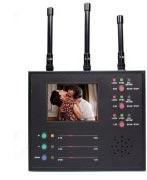 One of its kind 3 frequency band hidden camera detector. It operates at 1.2GHz, 2.4GHz, 5.8GHz frequencies at the same time. Scans area up to 300 feet simultaneously within 30 secs. Best of all, it has built-in LCD screen. Size of 3.5" this high resolution monitor will display wireless camera view. While it does depend on the signal strength, usually it can detect spy cameras up to 300 feet.
This hidden camera finder has built-in speaker, which will transmit sound if there is an audio signal. And you can also capture the view with stop/scan buttons in the cam hunter.
Now this is the top level of counter surveillance. These things you only see in Hollywood movies. Guess who is providing the movie industry with top gadgets? With this wireless camera detector you can snatch a view from any cams in the building or remotely.
I've seen folks use similar stuff in jewelry robbery movies. They walk in, take a view from the cameras, and spot what's going on in the area, how cameras move and what angle they can reach. After that, burglary is a piece of cake. I obviously don't suggest you going to a bank or using this for any illegal activity. But this beauty can do a phenomenal job when it comes to scanning and detecting hidden cams.
Spy Camera Finder Specifications:
3 Frequency scanning 1.2GHz, 2.4GHz, 5.8GHz
Portable device, easy to use anywhere
High Resolution 3.5 inch color LCD monitor
3.5mm vid./aud. Output jack for synch. Recording
Warns you when power goes low
Built-in lithium ion battery
Speaker available for audio
Separate antenna for each freq. band
You can use earphones
Has power-saving mode to save battery
Size: 7.5″; x 5.5″; 1.6″;  (19 x 14 x 4cm)
Weighs ~2 lbs. with battery
Up to 300 feet detection range
This hidden camera detector can search all 3 frequencies at the same time. It has become one of the favorite toys of many PI's, private detectives, bodyguards, large company executives, law enforcement guys and even military. It is really one of the best options you have at this moment.
Don't worry, instructions are very easy-to-understand. It really doesn't require any special knowledge in order to use this wireless cam finder. Even a child could use it.
Interested? Go ahead and learn more about this device. All its capabilities and specifications: