Cheap and Effective Webcam Surveillance
Software at Your Fingertips!
If you're looking for cost-efficient video surveillance cam software to monitor, spy and record what's going on in the room, then Watcher is exactly what you're looking for. Not only is it one of the cheapest webcam surveillance software. It is also one of the most powerful and feature-rich surveillance solutions available online today.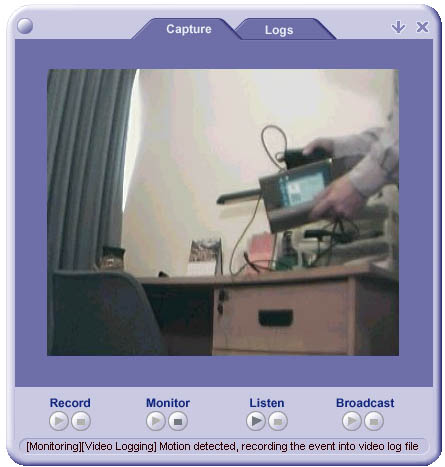 Just look at the features of this webcam software:
Motion detection and monitoring, remote video surveillance and webcam broadcasting – Watcher combines them all.
Captures video clips up to 640×480 frame size and also allows you to enable audio capturing.
Events are logged from the very moment they're detected, unlike some other software that delay at least few seconds.
The video log files are compressed. But at the same time, they provide good image quality.
Access the video log files remotely. Notifications will inform you without even leaving your home.
Advanced motion detection allows you to set sensitivity, duration of capturing and many other options.
Alert functions for home security included, such as ftp upload alert or email alert. It can also be configured to dial a phone or to deter the intruder by playing a wave file when a motion is detected, or to launch a program of your choice.
The RemoteView software will enable you to do remote video surveillance by connecting to Watcher. That is, you can view real time streamed video/audio from your webcam whenever you want through a phone line or internet.
RemoteView can even save the streamed video into its local hard disk.
Watcher has the broadcasting option, where you can broadcast the images captured from your camera on to the internet. Broadcasting can be performed along with monitoring.
Both Watcher and RemoteView can operate in a hidden mode with password protection. Watcher can operate in stealth mode, which means totally invisible.
Webcam surveillance software – Watcher can be configured as a multi-webcam solution to record views from many cameras.
Watcher can automatically start recording, monitoring, listening or broadcasting whatever it detects.
Watcher can be configured to run at your desired time for desired duration, using the comprehensive Watcher Scheduler.
Video surveillance cam software – Watcher can run as an NT Service.
Nice interface, easy to use and install, stable. That's the main features of Watcher webcam surveillance software.
Watcher Awards!
Watcher has gained many awards from reputable websites and portals. Below, you can find only a handful of all the awards this webcam software has gained.
You can order Watcher from RegNow – reliable 3rd party merchant. You can choose from many currencies when ordering Watcher – video surveillance cam software. Click the link below and order Watcher now.
(Update: This product has been discontinued. Browse this site for more spy and surveillance software/apps.)