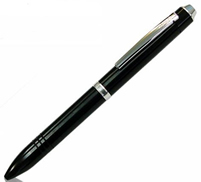 When regular digital voice recorder is not enough. Get yourself one of these cool voice pen recorders that can store up to 18 hours of audio data. For higher quality, you need to sacrifice some storage so it grabs around 4 to 5 hours. But that's still plenty if you need to secretly record some private conversations.
Many folks use it for regular day to day activities. Recording lectures, seminars, playing around with buddies, use it for notes. It's very small and convenient. But the real beauty of it is recording secret and private conversations. It's completely covert. Although spy devices like digital pen recorder are getting more and more attention, still very few people know about them. What it means for you is silent and attention-free spying. You can turn it on when talking to someone who tries to blackmail you. You can use it to spy on your colleagues. Record meeting data in case you think you won't remember anything. Plenty of uses.
Specifications:
Automatic Recording Level Control
Rechargeable Battery (Built-in Charger)
Battery Life Record 10hrs Play 8hrs
3 Recording Mode (HQ/SP/LP)
Recording Time:
HQ 4.5hrs, SP 9hrs, LP 18hrs(128MB)
Intro Scan, Skip, Search
Auto Scan First, Last File Search
Auto Power Off Mode
USB 2.0 UP/Down Load(Windows ME thru Vista)
Battery Indicator LED Display
Think you need this right now? Then why wait? Go ahead and add it to your cart right away. It's a small and nice digital voice recorder. Whether for professional or personal use, I'm sure you'll be more than happy with this "toy".
(Update: This product has been discontinued. Browse this site for body worn cameras.)