You plug earphones into your ears and listen to what's happening inside another room. Be it hotel, motel or regular multi-storey building room, you can hear a crystal clear sound. That's why it's called "spy ear". It lets you easily listen in on conversation in the next room.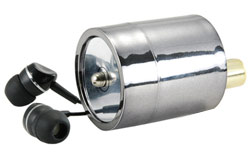 Audio bug placed near the wall amplifies the sound vibrations. This spy ear listening device sensors can pick up noise coming from the walls, ceiling or floor. It works on pretty much any hard, solid material: wooden walls, glass, doors, steel, etc.
Such wall microphone is very useful when you need to hear some drug dealer conversations or to catch someone taking a bribe. Police, FBI, all use these devices to secretly listen to people conversations.
It is very sensitive so it will pick up the voice vibrations even if they're coming from further distance. As you know, sound waves can be longer (louder) or shorter (quiet). If someone is speaking from the end of the room, it can be hard to hear their conversation with regular wall mics. But with this spy ear, you can simply increase the amplification by pushing a few buttons on the back of this listening device.
Specifications
Primary Function: Audio Spy Listening Device
Materials: Molded Plastic with Internal Sound Amplifier
Color: Silver
Onboard Buttons/Slots:
– 3.5mm Earphone Jack
– USB IN
– Sensor
– ON/OFF Switch Button with volume Dial
Power: Built In Rechargeable Battery
Dimensions: L:43 x Diameter:36 (mm)
Dimensions: Length: 1.70″  x Diameter: 1.42″
Package Contents
Spy Listening Device
Earphones
USB Cable
Power Charger (110-220v)
Instruction Manual – English
Would you like to know more about this amazing spy ear listening device? Then go ahead and check out some of our products by clicking this link below. Just please, make sure that covert audio listening is legal in your state/country as each has their own rules.
(This device is no longer available)
(Update: This product has been discontinued. Browse this site for more audio surveillance items.)