Hi-Res 32″ LCD TV Self Recording Spy Camera
Who doesn't love a nice LCD TV? What if you could mix the TV with a spy camera system? The Hi-Res 32″ LCD TV Self Recording Spy Camera has all the normal functions of a high-quality LCD HDTV with a hidden camera.
The camera is completely covert, with no visible pinhole or SD card slot. The included camera records 10 second to 2 minute video clips with a date and time stamp included. The 2GB SD card is included with your purchase.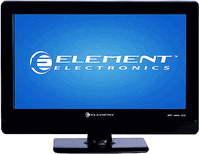 The 4 Easy Steps!
Step 1: Insert the SD card, then plug the power cord into an outlet.
Step 2: Aim the camera where you want to record.
Step 3: Disconnect the power, take out the card, and view the video on your computer.
Step 4: Repeat.
Specifications:
Model: – Element 32″ LCD TV / All Of The Original Functions Work 100% / Original Condition
Camera Lens: – Sony 4.3mm Color CCD Pinhole Lens
Quality: – 420 TV Lines
Minimum Lux (light): – 0.5
Resolution: – 640 x 480 DVD/MPEG2 Quality
Frame rate: – 12FPS
Recording Mode: – Motion Detection
Storage Mode: – SD and HCSD Cards
Sizes Supported: – 1GB, 2GB, 4GB, 8GB, 16GB
Recording Length: – 10 seconds – 2 minutes per clip or per motion
Recording Cycle: – Auto-Recycle (deletes oldest clip)
Recording Capacity: – Recording with motion detect on, In most environments the DVR will record between 2-4 days per Giga-byte (GB). If the DVR is set to record continuously, The DVR will record 3.5 hours per GB.