New and Improved Smoke Detector Camera. Now with Wireless Option.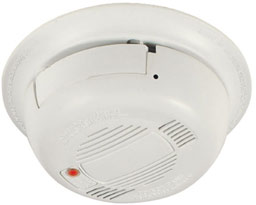 In previous series I talked about a great device that's on the market right now. Hidden camera that is covered inside a smoke detector. Well, that previous version just got improved. How?
The one we covered was wired. It didn't contain a DVR. Which meant more work and hassle setting things up. That might be ok for tech lovers and geeks, but not for regular people. Well, good news is you can get a better version of the same covert spy camera.
Set it up in an office and watch if your employees are not stealing from you when no one's around.
Put this smoke detector in your living room and capture wide angle view
You don't need to purchase additional DVR and wire up the whole room just to be able to record any video. Simply take out SD card, plug it into your computer, transfer all the footage and you're good. You can quickly install this device anywhere you want. You need however, to power the camera up using the AC adapter.
Motion-activated
Ideal for covert surveillance
Find out what's going on when you're not around
Increase home or office security
Capture hidden camera video footage in extreme low light situations
High quality SONY CCD image sensor built into the smoke detector
Built-in video recorder (DVR) for easy recording
Records onto a removable SD card up to 32Gb (not included) for hours of video & easy viewing
No additional software needed to view videos on your PC
Must be connected to a power source in order to function
This is one of the coolest hidden covert spy cameras you can get. No one will ever know you have a hidden camera watching over up there. It's a regular everyday object. You see these smoke detectors everywhere. Businesses, schools, homes, hotels. It won't distract the eye and you will get perfect quality video without being in the place yourself.
(Update: This product has been discontinued. Browse this site for home security systems.)