Mantel clock hidden camera decorates your room and protects your assets by monitoring any activity it senses.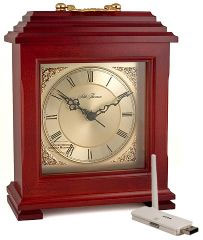 What if you want an old fashioned looking object with spy camera inside that fits perfectly to your decoration style? Well, this retro clock camera is exactly it. It works perfectly normally, however there's a small spying camera installed inside it.
What's great about this model is that you don't have to go with basic model. You can choose whether you want a wired versions, wireless USB or wireless RCA clock. Let's briefly covert each of those.
Wired clock is exactly what the name suggests. It's wired, so less mobility and you need to connect the wires to the DVR for recording.
RCA clock camera comes with receiver that you can plug into the TV or external DVR for capturing the video surveillance data.
USB model comes with USB key that you stick to your computer to get data. It's very convenient and you can stream the video live to the internet.
How People Use This Camera?
One of the most popular ways is to spy on nannies at home. If you use the USB version it will stream straight to the computer and internet. So you can see live footage online while you're at work. Pretty nice huh? It's very good to watch what your kids are doing as well.
You can bring this camera to the office and find out who keeps messing with your documents when you leave the desk. As long as it's not the alarm clock, it won't create a lot of suspicion around. You can place it any way you want to get the right angle.
It's also worth noting that like many other high-end new covert cameras, this one is motion activated. So you don't waste the disk space with useless recording. I suggest you check out this great retro style clock camera.
(Update: This product has been discontinued. Browse this site for more hidden cameras.)