DVR Camcorder You Stick in Your Pocket & Control the Spy Camera Inside Your Baseball Cap
Personal surveillance equipment continues to remain popular among security professionals and those who consider themselves amateur spies. Spy equipment, gadgets, and hidden cameras dominate a large portion of the security market. Hidden cameras, GPS trackers, motion sensors, DVR boxes, debug equipment, hidden pens, cell phone trackers, and much more are only a click of a mouse away.
And one of the more interesting recording devices is spy camcorder. It is a type of small hidden camera that can be placed in various objects and record on the fly.
Typical locations for a spy camcorder include around electronics equipment (blends in nicely), completely hidden inside toys, clocks, coffee machines, and other household equipment. There are pen cameras and hidden car spy cameras. One of the newest innovations is the hidden camera in a baseball hat. Now you can go completely covert while wearing a baseball cap.
Whatever you want to record is at your very whim. Chances are you aren't going to be playing ball with the hat on, but you may be in the stands recording your child's ball game. Maybe you are a private detective that doesn't need a notepad because he has a slick hidden spy camcorder with a DVR recording every movement and sound. A secret shopper can record the entire experience and easily write a report. Maybe you want to take a nap during a college class. Go right ahead as long as your hat is aimed at the professor. You just caught your spouse cheating and your lawyer takes the video evidence so you don't have to pay alimony! Options are endless.
This new innovation in the world of spy gadgets introduces a fascinating way to spy comfortably without people knowing it. A hidden spy camcorder is placed inside the hat with a recording DVR. This product may be fresh, but the name is straightforward. Experience the exciting world of non-stop spying with the Covert Hat with Recording (DVR).
Just when you thought they had put a spy camcorder camera in every object you can think of, you now have great mobility and are assured that your camera is aimed exactly where you need it. So what are the great features of the Covert Hat?
Spy camcorder allows for hands-free remote surveillance
Control the hat with a remote hidden in your pocket
Hook up your phone to your hat DVR with Bluetooth
Camera remains hidden even if you take the hat off
High-resolution video with 2 hours of recording time
USB Plug and play make it easy to download footage to your computer
4GB SD card included
One size fits all, adjustable Velcro
Includes headphones to listen to mp3s from your SD card while you record and the audio will still be recorded normally
Now there is no reason for you to ever have to miss out on important events. As long as you are wearing your covert hat, you will be recording life almost through your very eyes. In fact, with multiple hats, you could theoretically switch hats all day and record every hour of your waking life as seen through a pair of eyes a few inches above your own. Now that's one hidden spy camera you can't miss out on.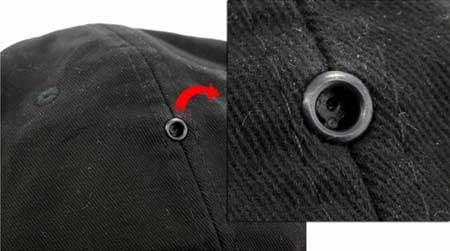 (Update: This product has been discontinued. Browse this site for body worn cameras.)