Very often kids and teens are searching for telephone voice changers with Dart Vader's voice. Those pranksters are always into some high-tech gadgets. But I'd like to introduce you a professional telephone voice changer. This is exactly like the ones you see in movies. Some bad guy calling up to blackmail a poor woman and ask for money. Yah, we've seen those films. And this is a perfect tool to do the job. Of course I hope you're not planning to use it for bad purposes 🙂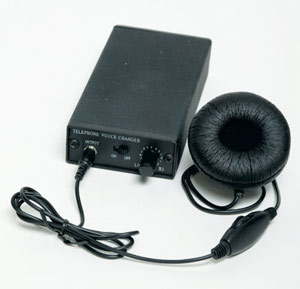 Anyway, this voice changer works on cell phones as well as regular phones. It has 14 different voice levels to choose from. A woman can sound like a man, and a boy can sound like adult. It automatically raises or lowers the pitch of your voice.
It is quite simple to use. Just place the padded speaker & strap belt over the mouthpiece of the telephone. Now talk into the microphone on the metal encasement.
There you go, now you sound like a completely different person…
While these can be used in serious situations, you can have fun with this. Record some answering machine messages or call up your friends. Funny enough, I even heard of a guy who's working for a telemarketing agency and uses that to make sales. He said that from many different voice tones, some produce more sales than the other. Who could know huh?
Features:
3.5mm Output Jack
Dimensions 5 3/8″ x 2 11/16″ x 1 1/16″
Carrying Case
Numbered Voice Control Knob