Affordable Listening Device that Will Evoke the Hidden Spy Inside You…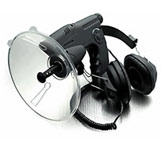 You can sense your neighbour talking about you, but unable to hear their voices? Our ears can catch sounds within a certain distance and often because of the background noise and the fading out sound waves, we are unable to hear what people are saying even from a smaller distance.
The Orbitor electronic listening device has been specifically designed to overcome these drawbacks. Now you can turn a human ear into a super ear with this device. Paired with a powerful lens, Orbitor electronic listening device is able to catch sounds of frequencies within the hearing range up to a maximum of 300 feet. The device specifically aims at improving the quality of sound and ensures you that you get to hear a crisp sound.
The Orbitor listening device consists of a 10x zoom viewfinder, which will make you doubt that the view is further than you think. The crystal clear sound makes you feel that the source is not more than two feet away from you. The ultimate listening experience is provided by the device with parabolic sound technology.
But one thing which might go against the positive aspects is the size. It is not so small and is a bit heavy. So you need a special bag for it.
Hear the Whispers with Your Ears
Good thing is that Orbitor listening device is portable. This means you can take it to stadiums (if you can get away with it) where you can watch live matches. Hear clear voices of the coach instructing players about the next move. Hear the players talking with each other about the game. Feel the atmosphere in the team and know what others will never know.
The listening device is a helpful companion in case you are going to a concert. It can magnify voices and the earphones do a really good job by transmitting the filtered sounds. The viewfinder can be used to look at the performance more closely from a large distance. The crowd and no front row tickets are not going to bother you anymore.
Orbitor – The Invisible Spy
The device can also be used as an informant. Orbitor electronic listening device is able to catch voices behind the doors and walls. You can always know what your friends think about you, thanks to the easy to use console.
Orbitor is a boon not only for spying on people, but for nature lovers as well as they can take full advantage of the capabilities of this listening instrument. Use the viewfinder to find where the birds or animals are and enjoy the breathtaking scene with a fabulously charismatic voice of nature.
Finally, after discussing so many features of this listening device, it would be easier for you to decide for yourself to give it a try or not. Orbitor really gives a nice value for your money and can be a helpful companion at any time.
Heard enough about this cool electronic sound amplifier? Do you think you could spice your life up by listening to distant sounds and voices around you? Then check all the features of Orbitor below: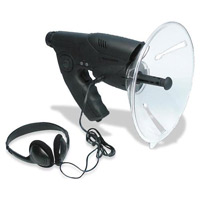 (Update: This product has been discontinued. Browse this site for more audio surveillance items.)