How can you leave your baby to a stranger? Of course, we'd all love to stay with our children and take care of them. But sometimes you have hire nannies to do the job.
There would be nothing wrong with that. However, we've all seen numerous videos on TV how nannies abuse children and even torture them. After seeing that, rarely anyone could feel comfortable leaving their little ones with nannies, even if they're teenagers living in your neighborhood. Crime rates are rising in some parts of America. You simply must make sure your kids are safe. How do you do that? With hidden nanny cameras of course.
There are many choices when it comes to nanny cams. For your attention, I'd like to introduce you to a small, battery powered clock camera. It is motion activated, which means that it saves power and records only when there's action in the room. It records 640 x 480 resolution images, and allows up to 24 hour recording.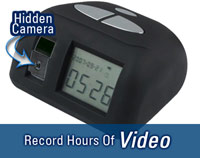 This nanny camera is perfect for those who don't want to deal with complicated manuals and tons of features. It's pretty much set and spy camera. It is ideal for moms, single parents. But it can also be used anywhere you want, such as office, work-space, even in a car.