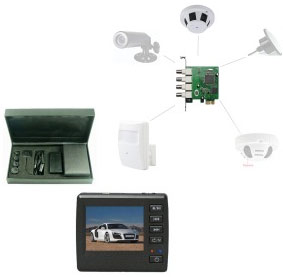 It's great if you can invest in a cool and quality all in one DVR model. It includes all you need for instant surveillance. But what if you are looking for a better deal? What if you need something more flexible for your spy and surveillance jobs? Here's a great news for you.
Now you can get bundles of specific popular model cameras and DVR's along with them. You pay less than you would by buying them separately. So this works out great for everyone.
What CCTV DVR bundles you get?
First you can choose from 10 combo packages.
Wireless DVR's with LCD screens are perfect for body worn solutions. For example wearable spy glasses. Get the top selling model along with this type of DVR for easy on the go recording sessions. Or use this DVR with a spy pen for bigger data storage and longer surveillance times.
Other types of combos go with PC based DVR cards. Use these with hidden cameras like smoke detector cam. Wireless installation isn't too difficult and you can build yourself a great surveillance system. Or get a few spy cameras and records all the surveillance view straight into the PC for later viewing.
I thought you might be interested in one of these deals. And if you're looking to buy one of these models anyway, why not save a few bucks and get a bundle?
(Update: This product has been discontinued. Browse this site for home security systems.)