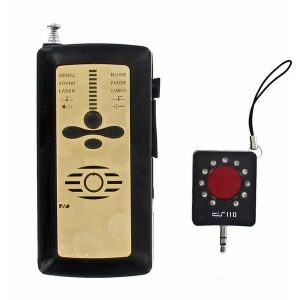 In the video you can see this wireless or wired hidden camera finder featured on "Judge Joe Brown" show. This amazing device is considered to be one of the best or maybe even the best wireless camera finder on the market today.
It works by emitting two laser beams that scam up to 50 feet away for any signs of a secret camera. Hidden cameras can be detected as flashing lights while viewed through this laser hidden camera finder pro.
In the video you see a couple arguing that hidden cameras are infringing their privacy. When the security expert looked at the so called hidden cam, turned out it was a dummy. You can see in the video the actual footage through the tiny view port. They specifically placed a real hidden cam that's recording next to the one inside the vehicle. Active spy cam was flashing red light and it's an obvious and pretty much fool-proof evidence that it's a covert surveillance camera. The dummy camera next to it wasn't producing any signs.
While surveillance and spy tools are great, you must follow the law. As each state has a different one regarding audio, video surveillance, you need to make sure you're in compliance.
Often people buy spy gadgets just for fun thinking that they aren't doing anything wrong. Some kids goofing around and showing hidden videos, or you're observing your colleagues at the office. But are you 100% sure you're legally allowed to do so? You definitely do not want to have trouble, because you simply forgot to check the law.
I agree that for personal privacy, recording is important and even crucial. But if you decide to have revenge by uploading your secret video to YouTube and showing what your neighbor did, you might end up in jail yourself. So be careful and follow the law.
On the other hand, if you actually are the victim of a secret and illegal surveillance, then grab one of these laser camera finders and check to make sure you're not being recorded. And if you are, seek justice.