What separates the best security camera tools from the poorest is quality production and extensive features. The Day/Night Internet Camera Server is a big winner when it comes to home security. The device's camera can be viewed from an internet connection. Not only does the camera stream straight to the computer, but it has built-in 2 way audio so you can hear everything from the camera, and someone can talk back. Optional speakers are not included.
One of the more interesting and powerful features is that the device and its software can monitor up to 16 individual cameras at the same time! This is accomplished by buying optional hardware that sends wireless signals to wireless cameras. Hopefully your home and office doesn't require 16 cameras. However, if they did, you would be in good hands.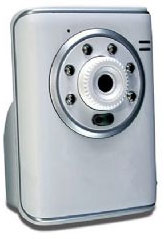 The camera also features motion detection capabilities, email alerts, scheduled recording times, and full USB support. Night visibility records up to 5 meters away with an infrared lens.
If you want to just go all out, add yourself a wireless DVR, and you can take full advantage of that 16 camera system. No trespasser or burglar will make it 2 inches without being caught!
(Update: This product has been discontinued. Browse this site for home security cameras.)