How about a Camera in your Fan?
The use of this motion-detection recording device is essential to protect your home. Fitting in the surveillance category of nanny cams, the Hi-Res Portable Fan with a Self-Recording Spy Camera allows you to record 10 second to 2 minute video clips that are saved onto an SD card inside the cover spy unit.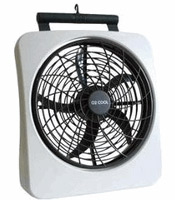 A Piece of Cake
In 4 easy steps, the self-recording fan is up and ready to use. Simply insert the SD card for recording and plug in the fan (or you can use batteries). When you are finished recording, simply disconnect the power and remove the SD card for viewing on your personal computer.
Features
The fan works like a normal fan providing a nice breeze if you are not currently using it as a nanny cam. The camera points straight out, with a slight tilt upward to get a big view for recording. Watch your video with Windows Media Player or a video player of your choice. Video is recorded at a resolution of 640×480 and triggered by motion-detection.
For more of a boost, you can upgrade the camera quality at any time with additional accessories. Tech support is available to assist you during normal business hours.