Spy with Sunglasses
When it is necessary to go incognito on a sunny day, you'll be glad you have the Body Worn Propak Kit. The spy kit allows you to record video with a small camera inside you sunglasses. It also comes with a button for instant starting and stopping of recording to the included DVR. The sunglasses are powered by the DVR itself and require no extra energy usage.
Multiple Lenses
Perhaps you don't want to walk around in sunglasses. That is fine since the ProPak Kit comes with 8 interchangeable lenses to choose from.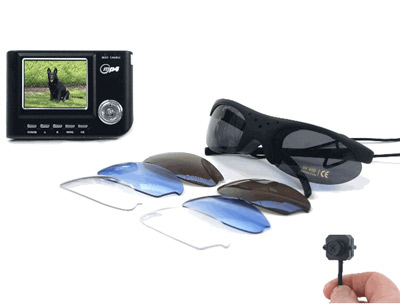 DVR Features
Time/date display
Quick swap battery
Adaptor/charger
USB cable
Computer software for downloading to your PC.
128 Mb internal memory and SD card slot for 5 hours recording on INCLUDED 1GB SD card.
A hard shell, highly durable carrying case is included to store your DVR and sunglasses when not in use. Now when spying, you can walk around in style, without fear of being noticed. No matter what your particular mission or covert operation happens to be, you will find that the sunglasses make a formidable asset to your spying data collection.
(Update: This product has been discontinued. Browse this site for body worn cameras.)