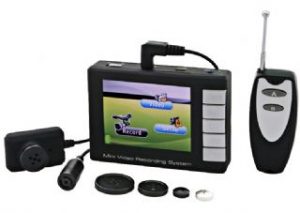 Another day, another spy device we review. And today we'll take a look at an interesting spy gadget that is used by PI's and journalists for secret surveillance. You got everything in one pack. Pinhole button mini spy camera, lapel mic, small DVR with high-res. screen for viewing the footage and remote control.
You can take this whole kit with you on a "mission" and secretly record audio and video on the fly. Rechargeable battery life is around 2.5 hours. You can record up to 170 hours of data.
How it Works?
You simply replace your regular jacket or shirt button with this tiny spy camera that looks like a button. Connect it to the DVR that you hold in your pocket and record all you want seamlessly and completely covert. Of course you can use it not only on your body. Simply mount in the office and leave it to record some critical footage you need. Book shelves are one good place to hide these pinhole cameras.
Now you might ask what the remote does. Well, you can put it in your pocket and control the recording this way. Or you can use it from a distance no longer than 30 feet away or so. Very useful when you can't be at the spot during surveillance. You watch the footage later on the TV or computer screen. Just plug in the wires and you're ready to go.
You'll get the DVR installation CD, DVR itself, remote control, wires, mini spy cam with a mic and a nice set of buttons for every occasion 😉
This is a very nice mini DVR spy camera kit. Click the link below to read more specifications:
(Update: This product has been discontinued. Browse this site for more body worn cameras.)