These mini cameras are placed into the most obscure everyday items right now. Here's one. Clip DVR camera.
You can hold a stack of papers with it. And also, you can secretly record videos. I'm not sure where would you find this spy camera useful. First the spy camera is hardly covert. You can hardly clip papers with it and expect not to gain attention.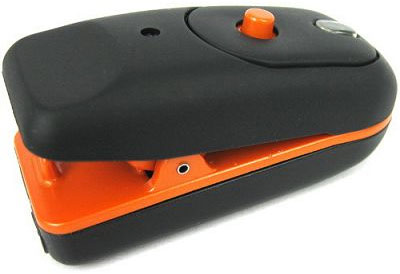 However, if you think about using this mini Bluetooth clip DVR camera as a mini cam, PC webcam, or just recording some stuff with your friends, it actually might becomes useful. You can clip it anywhere as long as it's a clip. To your backpack, clothes, car safety belt, purse, even clip a bag of chips if you want to.
Take a look at its features:
Looks just like an everyday clip
Can function as a web cam
VGA quality video
Takes pictures as well
Small size – approx.: 1″ x 3/4″ x 2″
As mentioned, this is quite obscure device to put a camera in. There are certainly more useful and common devices for that. But if you think you can find a use for this one, go ahead and check it out below.
Mini Bluetooth Clip DVR Camera